Tram of Art
From September 13-19 we (a group of 10 volunteers from Armenia) took part in an international project called Tram of Art, where we represented Armenia. Future in our hands NGO hosted in Armenia representatives from 6 countries of the world, namely Georgia, Turkey, Czech, Ukraine, Holland and Italy.
I must say that the project was a real success. We are impressed with it. Not even a moment passed useless. The schedule was so full and interesting that we didn't feel how the days passed.
Those 7 days were unforgettable in our lives and one of the most productive ones because as a result each of us got not only great amount of valuable knowledge but also precious friends.
Shushanik Zargaryan: EVS in Czech Republic
It's my second week in EVS project and I want to share with you my emotions, fears, feelings and expectations. So my friends it is not going to be a formal article, but just friendly story about me and my experience. Less than a year ago I didn't know anything about EVS, I even didn't hear about it, or maybe I'd heard, but I didn't realize what it can mean.
My story started from the day when one of my friends told me about some youth projects which can give you an opportunity to travel, to be abroad, to meet foreign young people and to make new international friendship. This is the only thing I caught then.
The talk is about my first experience in youth exchange program. This was the time when the doors were opened for me: I won too much things from that project, especially new friends, but the most important thing is that after this project I learned about EVS…
EVS in Poland
After the long flight, when the plane finally landed at the airport of Warsaw I felt calmness.
I was in Poland for the first time. I was walking with my luggage in my hand thinking that I don't have relatives and friends here who could meet me. But thanks to T. Alexanyan who is the head of the sending organization "Future in Our Hands" I knew that someone was going to meet me from the receiving organisation.
EVS in the Netherlands
Նիդերլանդներ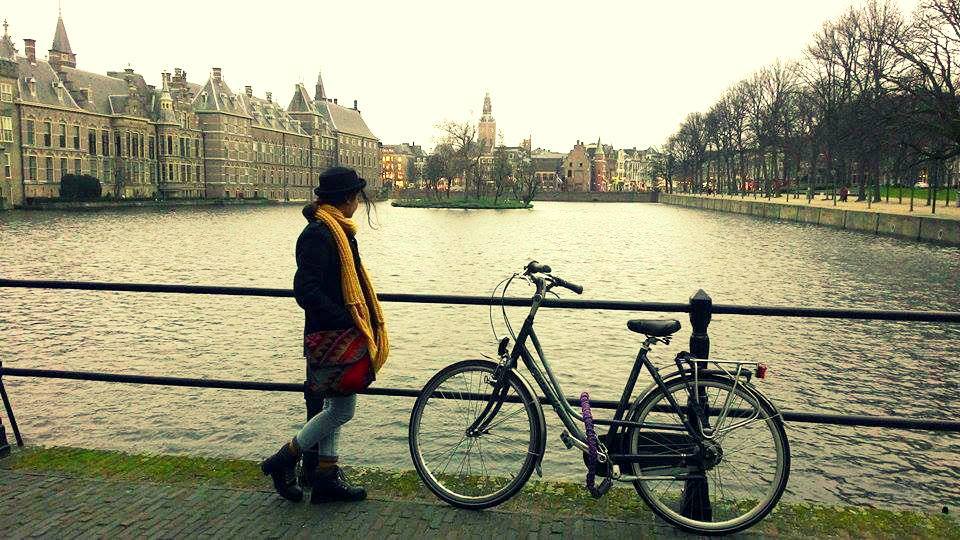 ը` ոչ պաշտոնական անվանումը Հոլանդիա, Հյուսիսային Եվրոպայի երկրներից է, եզերված Հյուսիսային ծովով: Անձամբ ինձ դուր է գալիս Նիդերլանդներ անվանումը, որովհետև այն ավելի է բնութագրում սկանդինավյան շնչով, անձրևոտ և իրենով յուրահատուկ մշակույթ ունեցող երկիրը: Նիդերլանդները այն երկրներից է, որն անվերջ կարելի է բացահայտել, ինչին նպաստում է թե աշխարհագռական դիրքը, թե մշակութային ժառանգությունը:
EVS in CZ
Interview With Sushanik, EVS in Czech Republic
What it is to be an EVS volunteer in Czech library?
Shushanik Zargaryan, a volunteer from Armenia, participates in European Voluntary Service (EVS) project called Volunteering in the library in the North Bohemian Research Library in Ustí nad Labem. You can meet her up to June in different lending departments of the library, during her presentations about Armenia or in English Club. What she likes on her project, in a new city and country? What it is difficult for her? And what she learnt? Answers not only to these questions you can find in our interview.
EVS in the Netherlands

From 7th of January till 4th of April 2 volunteers from our organization did their EVS in the Netherlands in an organization called Richter. The Richter foundation is a non-profit organization run by a team of professional in the field of arts a
nd cultural movement from the town of Den Helder. According to their impressions it was one of the most life changing experiences in their life.
Our volunteer Mkrtich Yezekelyan who is an artist worked in an art gallery. His tasks were to open the gallery on. He participated in organizing expositions, promoting the gallery and informing visitors on European activities.
Study Visit in Poland
Ապրիլի 10-16-ը Վարշավայում մեկնարկեց SPECIAL CARE SPECIAL NEEDS ծրագիրը:
Ծրագրին մասնակցում էին ներկայացուցիչներ Հայաստանից, Բելառուսիայից, Բուլղարիայից, Կիպրոսից, Թուրքիայից, Իտալիայից, Ռուսաստանից, Իսպանիայից, Հունաստանից և Լեհաստանից:
Ծրագրի շրջանակներում այցելություններ ունեցանք Վարշավայի 3 հատուկ մանկապարտեզներ, որտեղ հաճախում էին հատուկ կարիք ունեցող երեխաներ և 1 տեսողական խնդիր ունեցողների համար նախատեսված LASKI կենտրոն:
TC in Cyprus
Ա
պրիլի 16-23 Կիպրոսի Ագրոս գյուղակում մեկնարկեց Conflict management and Peace initiatives ծրագիրը: Ծրագրին մասնակցում էին ներկայացուցիչներ Իտալիայից, Հունաստանից, Մակեդոնիայից, Խորվաթիայից, Ալբանիայից, Հայաստանից, Ռումինիայից, Բուլղարիայից, Եգիպտոսից, Վրաստանից, Ուկրանիայից, Լատվիայից, Հունգարիայից և Բոսնիայից:
Ծրագրի շրջանակներում կազմակերպվեցին և քննարկվեցին տարբեր կոնֆլիկտային իրավիճակներ, որոնք բացահայտեցին մասնակիցների` կոնֆլիկտը յուրովի լուծելու մոտեցումները:
EVS in Bodrum
Between the 24th and the 29th of May, ancient Halicarnassus by the Aegean sea will host the 17th International Bodrum Dance Festival (IBDF). In this beautiful port town cultures from all over the world will be united by dancers, performers, journalists and volunteers. Since 2012 The International Bodrum Dance Festival has been listed among UNESCO's international events
Learning to Learn: TC in Moldova
10 days to le
arn, 10 days of trainings and sessions, 10 days of debates, discussions and presentations, 10 days of incredible intercultural atmosphere, 10 days of unique experience which will stay in our minds forever.
Days which gave a deep insight into diverse methods of non-formal education, facilitation, as well as profound knowledge concerning Europe, EU, Erasmus+, learning and cultures.
TC in Italy: Learning=Employability
This November I  h
ad a chance to participate in Erasmus+ project in Potenza, Italy. The subject of this project was "Leadership for Employability" which had as a goal the development of leadership skills needed to be a competitive candidate in job markets.First step was application to the program.
TC in UK
First of all I
have been waiting for this course about one year. To be on the level I stopped waiting any news about course, but one day I received an email from "Momentum World". No one could imagine how blessed I felt. It was the first step for me to participate in serious course like "One step Ahead 2".
EVS in Romania
Discovering a new country and culture was always a dream for me. I didn't have many possibilities to go abroad. But the EVS I had in Romania gave me the opportunity to see a new country, to meet new people of other nations. And I am thankful to my Sending Organization for this opportunity. I had a big experience in many aspects during my EVS stage.
EVS in Czech Republic:
I'm Arsen from Armenia and during last year i was in Ivancice for volunteering. My project was about sport activities with children espacially floorball and tennis trainings. And also i was working in kindergarden with kids.
I studied informational technologies and photogophy in my home country and after that i wanted to try something new which i didn't do before in my life that's why i came to Czech Republic to do EVS, and that was one of the best decisions of my life because here i saw and learnt lot of new things, i met lot of new friends and
From 06-12 of March 5 of our youth workers participated in a training course which took place in Almagro, Spain under the theme "Selective prevention, a program of opportunities".
The project hosted participants from 5 entities from 4 different countries (Bulgaria, Italy, Lithuania, and Armenia) in order to give them deeper knowledge about the method of selective prevention.
With this report I want to thank both my sending and receiving organizations for this opportunity. I am volunteering in a Greek NGO named "I.D.E.A." which has operated since 2007 and is directed to support people in need. My position in the NGO is general management assistant. I have been here already three months and I am glad to say that my receiving organization takes into consideration my professional background and tries to occupy me with jobs of my expertise. Currently, I am working on statistical analysis of the organization as well as conduct research for the business plan of one of their projects. Something that I really enjoy and consider that will have real experience in my field.
From the 20th till the 27th of March 3 of our members took part in a training course named "Youth workers – the engine of social change in marginalized communities" which took place in Sofia, Bulgaria.
48 youth workers from 12 countries( Greece, Spain, Portugal, Turkey, Slovakia, Romania, Lithuania, Georgia, Armenia, Italy, France and Bulgaria) participated in a project thus strengthening international cooperation between EU countries.
MY EVS in DENMARK: ANI AVAGYAN
They say that the best souvenirs are memories, when leaving Denmark I knew that I am taking the best souvenirs with me back home. All the challenges, all the opportunities I met there gave me an important experience of life.
My project was with students and teachers who were part of the International Academy and boarding school of Denmark. Less than in a month I easily got into the atmosphere and life of the school. Read More: